NPT Inlet GHT Male Outlet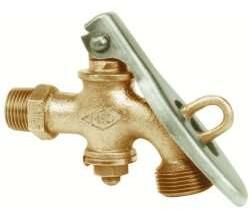 This 34 inch brass faucet's operating handle lifts and turns to precisely control the flow. Intended for gravity flow petroleum products. The large hasp accommodates a large padlock for extra security. It has a 34 inch NPT inlet and 34 inch GHT Outlet (Garden Hose Thread) male thread. Rated to 25 psi.
Non-Potable use only.
Simple 14 turn opens or closes
Easy operating steel handle is padlockable
Fits 34 inch bung opening
ML1 - optional padlock provides optimum security.
SEL8-PTRD - optional 8 inch pull tight seal provides tamper evident security. Seal needs to be cut to be removed.
Outlet: : 3/4" GHT
NPT Inlet Size : 3/4 inch
Wt.: : 1 lb