Thermal Wrap Insulation with Shipping Box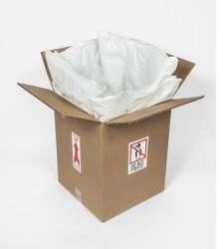 Use this shipping box with thermal wrap insulation to keep the contents of your steel or plastic pail insulated and avoid product from freezing or melting. This shipping combination is uniquely designed with the thermal wrap placed in the bottom of the shipping carton and wrapping up the four sides of the carton to keep your product secure and extending the coldwarm shipping time. The thermal wrap insulation is composed of loft filler material and poly-lined composite. This shipping combination creates a passive temperature protection that you need for your product and it is a cost effective and reliable solution compared to the time spent waiting for your product to thaw or bring back to the right temperature.
Shipping Contents Include:
Carton – 14" x 14" x 18" with two labels; One label on one side of the carton consists of "This Side Up" arrow and the other label on another side of the carton consists of "Freeze Protection"
Thermal Wrap Insulation
The heating and cooling temperatures depend on the specific product temperatures and environmental conditions.
series : Thermal Wrap Insulation with Shipping Box – For 3.5 – 5 Gallon Pails