Countertop Ventless Deep Fryers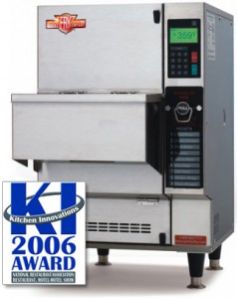 Automatic Countertop Ventless Deep Fryer by Perfect Fry Company

Operation Modes: Rapid Fry Mode – automatically begins cooking the next batch. PresetPreset Locked Modes – Pre-program up to nine different food items into the electronics system. Manual Mode – Operates as easy as a microwave!

Advanced Electronic Capabilities: Cook Time Sensitivity (CTS) – Ensures a consistent product by automatically extending cook times to account for significant drops in temperature. Preset Counters – Monitor the amounts of up to nine different food products that have been cooked in the PFA Rapid Fryer. Food Type Sensitivity (FTS) – Control the movement of the basket to ensure that all products are dispensed at the conclusion of the cooking cycle. Stand-By Mode – Reduces power requirements during non-peak periods. Dual Load Cook Cycle – Cooks two products with two different cook times simultaneously to reduce preparation time. Hold Time Monitor – Monitors the elapsed hold time of finished products following a cooking cycle.