STREETWISE HD 1080P WEATHER STATION CAMERA WI-FI VERSION (CESWWSIPC)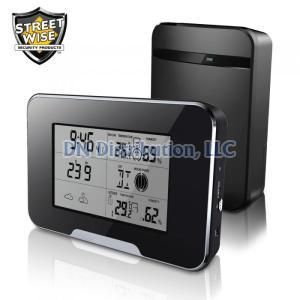 USD 131.00 / Piece(s) ( Approx )
Min. Order (MOQ) : 1 Piece(s)
Please cut & paste the link for the video tutorial:
https://youtu.be/q21LEpbkIfE

Now you can covertly monitor your home or business with the streetwise weather station wifi ip camera. The camera connects to the internet via wi-fi. You can live stream onto your ios or android device by downloading the free app, pro icam, and scanning the qr code on the camera. You can also view the live stream on your pc. In addition to providing live video, this device can also record to an sd card (supports up to a 32 gb card which is sold separately) when motion is detected. One of the best features of this security camera is the motion activated alert system (can be activated in the app settings). In this mode, when an intruder enters your home or office and the camera senses motion, it will send an alert call to your mobile device. When the call is answered, live footage will be displayed. If you see that there is a threat to your home or business, call the police. The 1080p high quality video camera is hidden inside a fully functional weather station with a 5 inch lcd screen. The lcd screen displays the time, date, indooroutdoor temperature and humidity, a picture of the expected weather and the moon phase. This device is also a fully functional alarm clock with back-lit display for nighttime use. Covered under a 1 year warranty.
Color : Black
Category : Spy/Hidden Camera
Additional Information:
Payment Terms : Western Union, MoneyGram,
Packaging Details : Weight: 1.55 lbs Case Quantity: 20 Case Weight: 34 lbs Inner Box Quantity: 1 Packaging Type: Color Box Country of Origin: China UPC: 793831600173 Package Dimensions: 7.5" x3" x 5.5" (LWH)