Streetwise Xtreme Flashlight (SWXLPB4)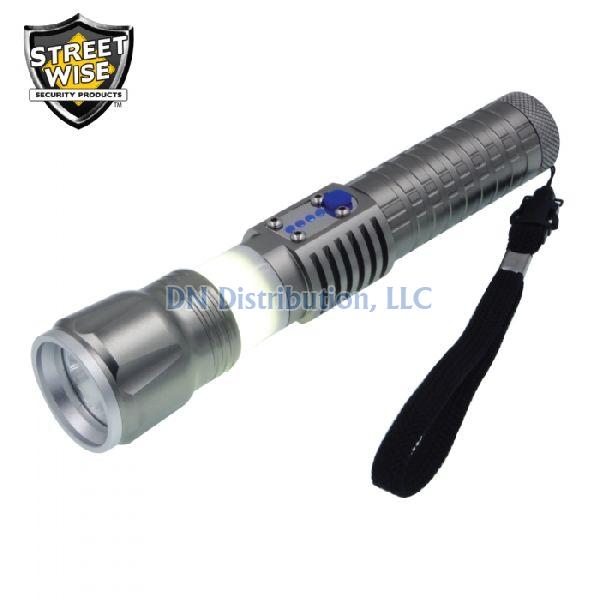 USD 28.60 / Piece(s) ( Approx )
Min. Order (MOQ) : 4 Piece(s)
Whether you are preparing your emergency preparedness kit, going camping, or just someone who stays on the go and uses your phone a lot you will love this brand new gadget that combines two must have items: a bright flashlightlantern and a power bank! in addition to the powerful flashlight, the other thing that makes the streetwise xtreme light power bank unique is the rechargeable replaceable battery. With other power banks you are limited to the amount of battery power it can store. Once depleted it is worthless until it can be recharged. With this new model you can purchase additional batteries and simply replace them as needed. Now you can be without power for weeks at a time and still be able to charge your phone and many other electronic devices as well as have a reliable light source.

The flashlight features adjustable focus and four light modes: full power, half power, sos, or strobe. The head slides up to easily convert the flashlight into a lantern for 360テャテつ「テモテつー of soft light. Great for use during power outages, camping, fishing, or when working in the dark. Can be used to charge mobile phones, mp3 players, tablets, ipads, and many other small electronic devices.

contents:

streetwise xtreme flashlight & power bank
micro usb cable
wrist strap
replaceable 26650 battery
complete instructions
inventory status:

limited quantities available.
Additional Information:
Payment Terms : Western Union, MoneyGram,
Packaging Details : Weight: .875 lbs Case Quantity: 24 Case Weight: 25 lbs Inner Box Quantity: 6 Packaging Type: Clam Shell Country of Origin: China UPC: 793831240102 Package Dimensions: 5.25" x 2.5" x 12.5" (LWH)