Men's Bracelet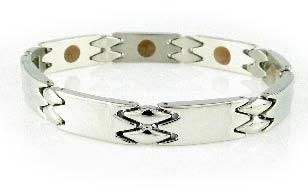 USD 9 / 10 Piece(s) ( Approx )
Min. Order (MOQ) : 100 Piece(s)
We are offering men's bracelet.
ion power stainless steel bracelet strengthen your body's energy field.

material : smother bracelet edge. With 316l stainless steel. Energy : with negative ion energy- 3500cc.

function of negative ion: 1. Function of negative ion

2. Negative ions promote a better metabolism within the body.

3. Negative ions improves the body's immune system, giving the body greater ability to fight off a host of illnesses, and diseases.

4. Negative ions enhance the body's ability to function, assisting the vital organs so that they may more effectively do their jobs.

5. Negative ions adjust to the body's muscle function to create a better balance in the body.

6. Strengthen brain function and mental focus, improving spirit.

7. Helpful for patients with cardiovascular and cerebrovascular diseases, and high blood pressure in recovering more quickly by alleviating vessel convulsion spasms and

8. Normalizing blood pressure.

9. Prolong clotting time; oxygenate the blood, increasing blood oxygen transport and absorption.

10. Improve lung volume and strengthen pulmonary functions.
Additional Information:
Packaging Details : SIZE : 11MM WIDE LONG : 7.5 INCH BOX : ALL OUT BRACELETS COMES WITH GIFT BOX
Delivery Time : 15 days