Sole Mates Man Shoe Sticker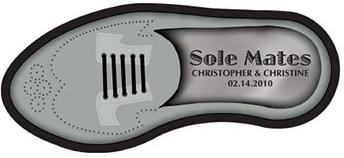 Personalized Sole Mates Man Shoe Wedding Favor Sticker
This fun word play is destined to make your guests smile. Use this adorable "Sole Mates" Man's Shoe Sticker to add instant personality to our mini shoe polish sponge favors. Pair with our Mrs. "Sole Mates" sticker to create a great party favor for couples. Dance the night away... and don't worry about the scuffs on your shoes!
QUANTITY : 24
ITEM : 8797-22
Size : 1" x 2.5"