BRH Sanitary Transfer Hose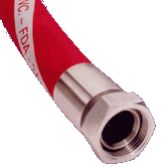 BRH multi-ply reinforced hose is specifically designed for the highly demanding service of transferring non-oily liquid products. The BRH hose construction consists of 4-plys of fabric reinforcement in 1-in. and 1 12-in. I.D. sizes and 6-plys of reinforcement in 2-in. I.D. and larger.
Red outer cover with grey spiral stripe.
Synthetic multi-ply fabric reinforcement with EPDM cover.
Inner white chlorobutyl tube.
Specifically designed to resist damage from kinking or flattening.
Hose Size I.D. in. : 1.000
Hose Size O.D., MM : 42.8