FROG-D Generator display Three Phase, Delta (FDA100)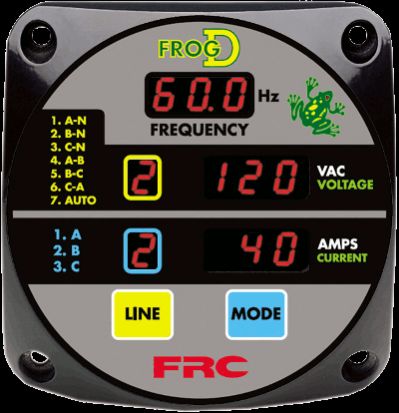 USD 1051.00 / Piece(s) ( Approx )
Min. Order (MOQ) : 1 Piece(s)
The frog-d 3p is a compact 3-phase generator display with built-in warning capabilities.
The frog-d fda700 series replaces the venerable fda300 series and offers much easier installation. Sensor cabling no longer needs to be run to the back of the display, but instead can be interfaced at or near the circuit breaker panel.
Like its predecessor, this updated display module offers a weatherproof, multi-function, digital display for three-phase 60 hz generators rated from 10 to 135 kw with a delta or star winding.
Standard features
generator output frequency
line voltages (phase to neutral or phase to phase)
current on each line
total generator operating hours
monitor each line individually or scan all lines continuously
optional audible warning buzzer
built-in warning for generator overload
hydraulic oil temperature (optional)
the frog-d 3p engages automatically when output voltage is sensed from the generator being monitored.
Rated Voltage : 120-240
Output Type : 120- 240
Frequency : 60 Hrtz
Brand Name : Fire Research Corp
Type : Generator display
Rated Current : 3 phaze to 135KW
Model Number : FDA100
Place of Origin : USA
Additional Information:
Packaging Details : box
Delivery Time : 3 to 4 weeks
Spec Sheet FSA700