INSIGHT PLUS Digital Flow and Pressure meters (FPA500-010)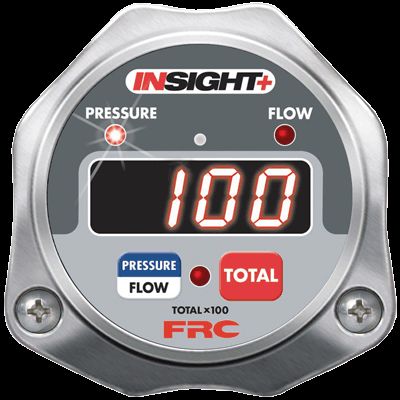 USD 998.00 / Piece(s) ( Approx )
Min. Order (MOQ) : 1 Piece(s)
Insight plus digital pressure and flow indicator
the insight+ is an all digital pressure and flow indicator that displays the pressure and the flow rate at the discharge.
This digital pressure and flow indicator has a 4-digit led display with daylight bright digits 0.56 inch high. The meter electronics are self contained and all program features are accessed via push buttons on the front of the display. The pressureflow indicator is able to communicate with other display modules over a datalink. This technology allows for remote displays, the display of flow for multiple discharges (summing), and the totalization of flow for multiple discharges (accumulation). Pressure information is from a pressure sensor and flow rate is provided by a paddlewheel type flow sensor, both are mounted in the discharge. This information is processed and shown on the digital display.
Standard features
displays gpm and psi directly
all aluminum housing
high and low flow warnings
automatically adjusts led intensity for day or night operation
frc datalink interface for primaryremote operation
multiple flow rate calibration points
programmable for psibarkpa
paddlewheel style flow sensor
internal micro-processor
simple installation
color coded bezel available in nfpa color code
linearizer feature - allows for calibration at multiple flow rates
safeflow feature - preset excessive and inadequate flow warning settings
specifications
supply voltage: 9-30 vdc
supply current: 1.5 amps max
display dimensions: 3.25" wide, 3.25" high, 2" deep
2.75" panel cutout required
plumbing the flow sensor
the proper installation of the flow sensor is essential. The final accuracy of the digital flow display will be based on the plumbing choices made at installation. Refer to the flow sensor page for more details.
Spec Sheet FPA500