PRO-S Pressure Governor Panel (PRA201)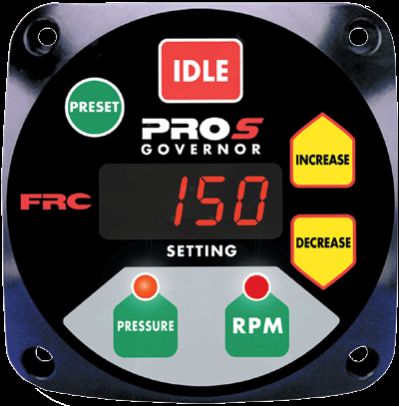 USD 2276.00 / Piece(s) ( Approx )
Min. Order (MOQ) : 1 Piece(s)
PRO-S Pressure Governor Panel. PRO has come as a revolution and has replaced the older PRO series governors. It comes with all new control electronics that make it rather more reliable and dependable. It has a variety of new programming features such as automatic compensation for both high and low pressures. There is also a high pressure surge limiting in the RPM mode. The larger color coded buttons allow easy operation. The governor acts as a 'cruise control' for the pump. It has been designed especially for the firefighters. Our product has been recognized globally for being very User Friendly. It will retain the default setting regardless of the number of discharges. If more lines are opened then Pro will raise the engine RPM automatically to retain the requisite pressure. It is silent and noise free. The buttons are large and color coded. This makes them easy to identify even in dim light. It retains constant pressure during pump operations. Some key features include automatic preset for swift pressure and RPM settings, reliable and easy to install. In absence of water the device will go to safe prime speed that will help it retain pressure. If you fail to do so, the Pro will bring the engine to idle form.
Standard Features :
Simple to operate! (The PRO interface was designed to be easy to use.) The large, color coded, clearly marked buttons are easy to identify even in dim light.
Maintains constant pressure during pump operations even as more lines are added or taken away.
Corrects for pressure changes faster than humanly possible.
Automatic Preset for swift pressure and RPM settings.
Settings are displayed in large, bright digits.
Proven reliability. The PRO has been in everyday use by departments across the nation since 1993. You can depend on the PRO.
Engine idle when out of water. This feature requires a bit of explanation: The program initiates "prime RPM" ramping at an out of water condition. In other words, if you run out of water, the PRO will go to a safe "prime" speed to try to get the pressure back. Failing this, after 7 seconds, the PRO will bring the engine to IDLE.
Remote High Idle option
Easy to install.
Compatible with all common engines used in the fire service. This standardization allows you to create a simpler pumper training program because the same interface can be used regardless of engine type.
Additional Information:
Packaging Details : Box
Delivery Time : 3 to 4 weeks
Spec Sheet PRA200