THROTTLE XCEL Engine Throttle and Engine Displays Control (ELA201-A00)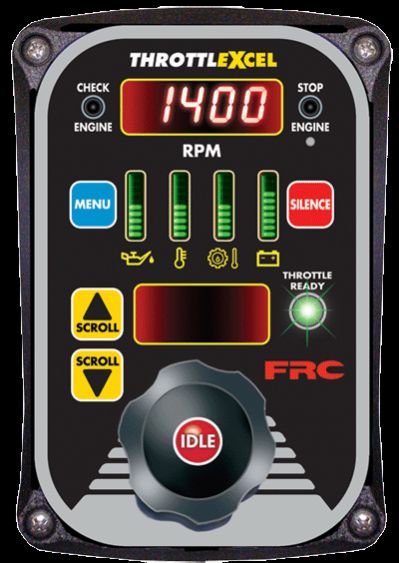 USD 1137.00 / Piece(s) ( Approx )
Min. Order (MOQ) : 1 Piece(s)
We are offering throttle exell, fire truck pump engine throttles. The throttlexcel is an all-in-one instrument panel that integrates a traditional style remote hand throttle with engine monitoring and display. It provides engine control as a remote throttle or it can be programmed as an engine governor.
The ela200 models are programmed to operate in one of the following control modes dependent on requirements, engine type, and wiring.
throttle control mode: in this mode the throttlexcel is a traditional remote engine hand throttle and provides manual control of the engine rpm.
governor control mode: in this mode the throttlexcel is an engine governor and maintains a constant engine rpm. It eliminates the need to make throttle adjustments as the engine load changes.
Rpm adjustments are made in both modes by turning the control knob. The engine can be brought down to idle quickly after operation with the touch of the red idle button.
The four led bar graphs provide constant display of safe operating ranges for engine oil pressure, engine coolant temperature, transmission temperature, and battery voltage. They do not show exact numbers or units of measure. Detailed information is shown in the message display when the menu button is pressed. Engine hours are also shown. all controls and indicators are located on the front of the control module.
Approx Price : INR 65577.16 Per 1 Piece(s)
Additional Information:
Payment Terms : T/T,
Packaging Details : boxed
Delivery Time : 4 weeks